UO Auto-Map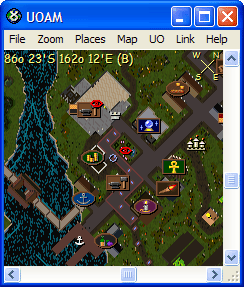 What's that?
UO Auto-map is a much improved version of the "radar" included in the game (ALT+R).
With Automap you can move around the map and zoom as you wish.
If you connect your Automap to an Automap server, you can also see the location of your friends (who is connected to the same server)).

Ultima Online Dreams provides a server automap for their players!
Server Settings
IP Address
login.uodreams.com
Port
2000
Where I can find it?
Automap is a frre software that can be downloaded from:
---
There's two main way to use Automap.
As Map of Sosaria like the one of the UO Client, in this way you don't need to be connected to a server.




Or you can you use it to track other player's posistion linked to the same server (for UOD you need to use the address above).



The last way is ideal for team work and stay closed, if a player need help, you already know is position for aid him.
In order to connect to a UOAM server, you must choose a NickName and, if you prefer, use a password to stay hide from other users and visible only for the teammates.
In addition, AutoMap have an internal chat for communicate with other connected players.
UOAM is an ideal tool working for both PvM and PvP.
To request a UOAM Channel on the UODreams server or a password change (if you already own a channel), you must contact Neil.
Online Now
40 anonymous
Visits:
50471561