Summoning Rite
The Headless Knight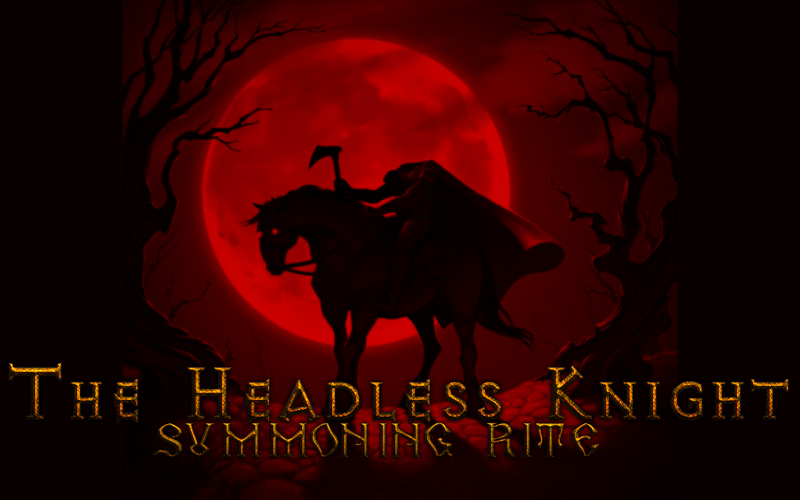 ITA
La leggenda narra che nei boschi oscuri vicino la città di Umbra, quando la foschia si alza iniziano ad accadere strani misteri. Il nitrito di un cavallo in lontananza e il suo trotto tonano per tutto il bosco, insieme al suo respiro che risuona di morte! Si narra infatti che in queste zone vivesse un'antico cavaliere che in una battaglia nelle terre perdute morì perdendo la testa! Si dice che prima di cadere a terra pero' riuscì ad infliggere un colpo mortale proprio all'uomo che l'aveva colpito.

Uno dei necromanti di Umbra, meglio conosciuto come l'"Evocatore" è riuscito in qualche modo a ricreare un rito per summonare l'antico cavaliere e rinchiuderlo, si dice che alcuni cavalieri di Britannia abbiano provato ad affrontarlo e non siano più tornati, volete provare anche voi ad affrontarlo?
The Summoning - Daily Quest
Raggiungendo l'Evocatore nella sua dimora fuori dalla città di Umbra è possibile accettare una volta al giorno la sua missione!
L'Evocatore ha sigillato la grotta in cui vive per proteggersi dagli spettri malefici che tentavano di raggiungerlo. Sarà possibile parlarci solamente una volta al giorno tramite il cunicolo da lui creato, esso vi dirà cosa serve per summonare l'Handless Knight, lasciandovi una pergamena che indicherà dove andare e cosa cercare per completare il rito!
Una volta completate le richieste dell'Evocatore apparirà in bag una speciale chest chiamata "The Summoning Price", dentro troverete la chiave d'accesso al dungeon e ci sarà la possibilità di trovare altri item decorativi: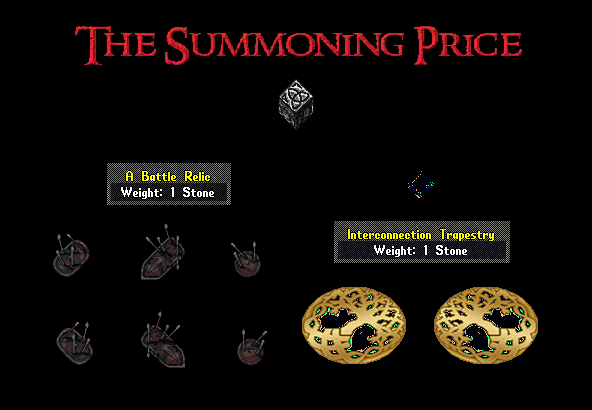 Summoning The Headless Knight (boss key)
A Battle Relic (6 decorative shield)
Interconnection Trapestry Deed (rare chance)
Una volta ottenuta la chiave d'ingresso potrete recarvi all'interno della città di Umbra, in una cripta protetta da delle fiamme verdi, da li dentro sarà possibile accedere al dungeon dell'Headless Knight da soli o con l'ausilio di un Party!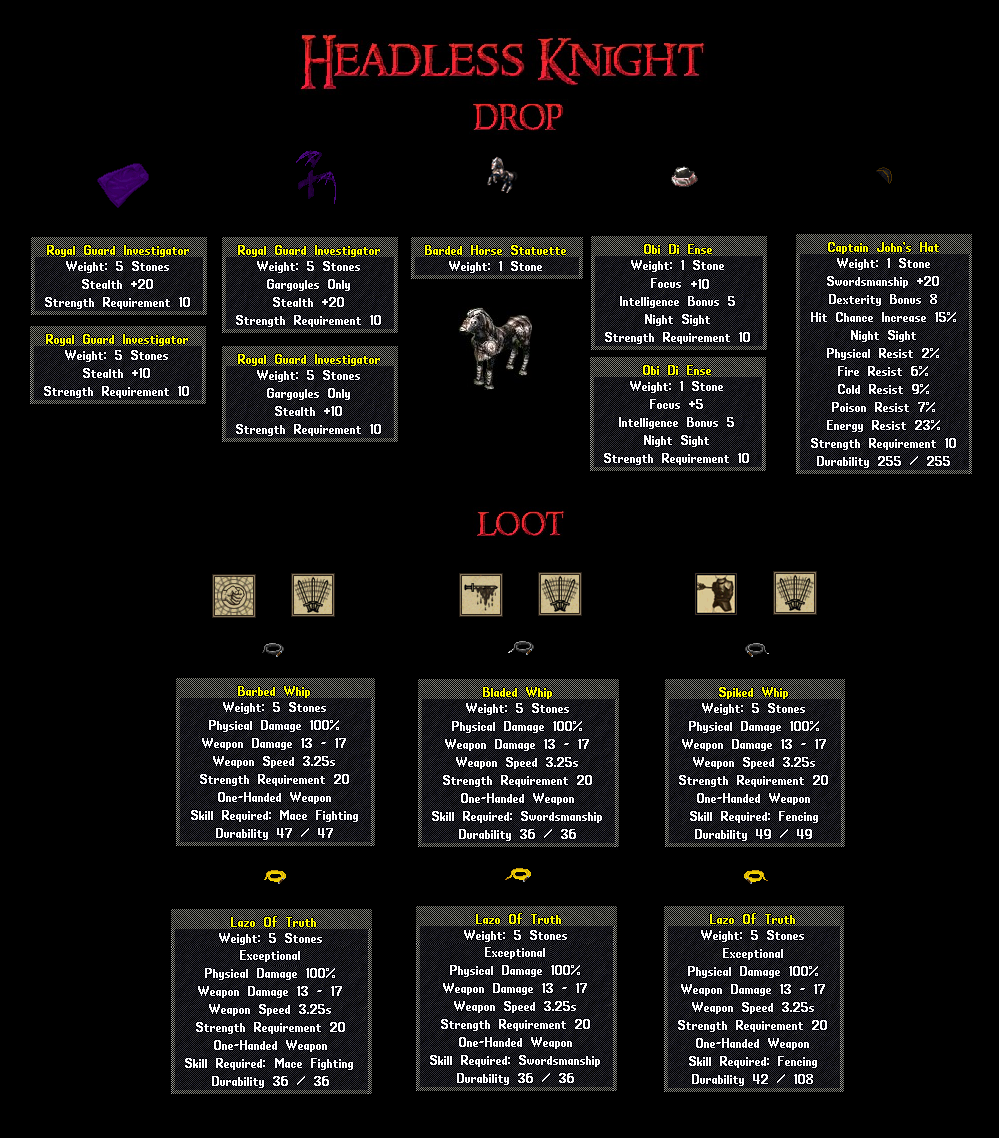 Sconfiggendo l'Headless Knight nella zona dov'è stato rinchiuso dall'evocatore avrete una grossa chance di trovare nel suo loot una "Whip", un nuovo tipo di arma che troverete senza proprietà che si può sia imbuiare che reforgiare. Molto di rado nel loot sarà possibile trovare una versione speciale di queste fruste chiamate "Lazo Of Truth" che presentano la proprietà Exceptional, sono di colore liquid gold e come l'item base è possibile modificarle tramite Imbuing e Reforging.
Nel drop del boss sarà invece possibile trovare uno dei tre Artefatti presenti nell'immagine, corrispondenti alla versione non [Replica] già droppabile precedentemente nei Champion Spawn.
La Barded Horse Statuette invece è una mount in statuetta che ha le stesse funzionalità del " Chief Paroxysmus Swamp Dragon", infatti come quest'ultimo permetterà a chi lo cavalca di ricevere danni minorati!
Headless Knight Champion Spawn - Lost Land Felucca
Nelle Lost su Felucca sarà possibile affrontare il Champion Spawn dell'Headless Knight una volta ogni 10 minuti, questo boss dropperà i seguenti artefatti ottenibili anche nella Daily Quest su Trammel: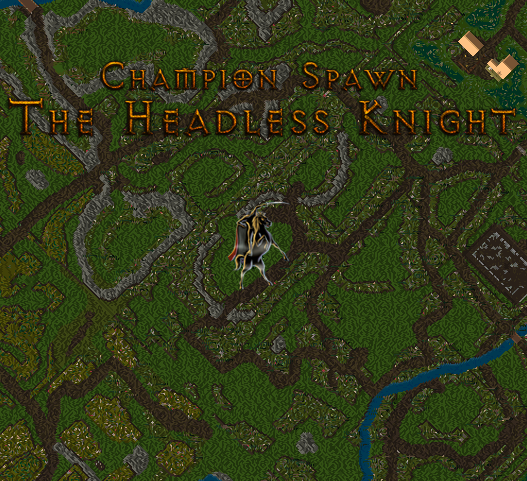 Royal Guard Investigator
Royal Guard Investigator (Gargoyle Only)
Obi Di Ense
Captain John Hat
Barded Horse Statuette
ENG
Legend has it that in the dark woods near the city of Umbra, when the mist lifts strange mysteries begin to happen. The neigh of a horse in the distance and his trot thunder throughout the woods, together with his breathing that sounds like death! In fact, it is said that an ancient knight lived in these areas who died losing her head in a battle in the lost lands! It is said that before falling to the ground, however, he managed to inflict a fatal blow on the very man who had hit him.
One of the necromancers of Umbra, better known as the "Conjurer" has somehow managed to recreate a ritual to summon the ancient knight and lock him away, it is said that some knights of Britannia tried to face him and never returned, do you want can you try to face it too?
The Summoning - Daily Quest
By reaching the Summoner in his home outside the city of Umbra it is possible to accept his mission once a day!
The Summoner sealed the cave in which he lives to protect himself from the evil specters that tried to reach him. It will be possible to speak to him only once a day through the tunnel he created, he will tell you what is needed to summon the Handless Knight, leaving you a scroll that will indicate where to go and what to look for to complete the ritual!
Once the Summoner's requests have been completed, a special chest called "The Summoning Price" will appear in the bag, inside you will find the access key to the dungeon and there will be the possibility of finding other decorative items: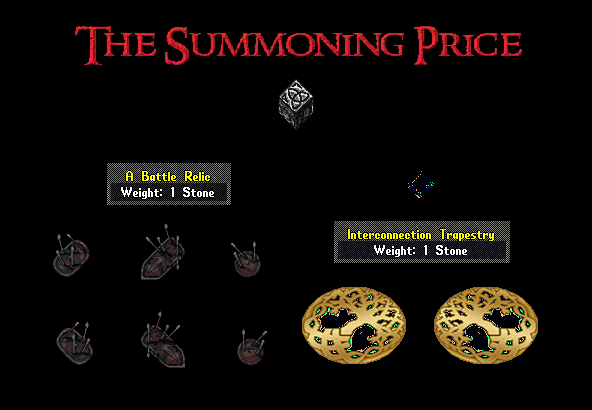 Summoning The Headless Knight (boss key)
A Battle Relic (6 decorative shields)
Interconnection Trapestry Deed (rare chance)
Once you have obtained the entrance key you can go inside the city of Umbra, in a crypt protected by green flames, from there it will be possible to access the Headless Knight's dungeon alone or with the help of a Party!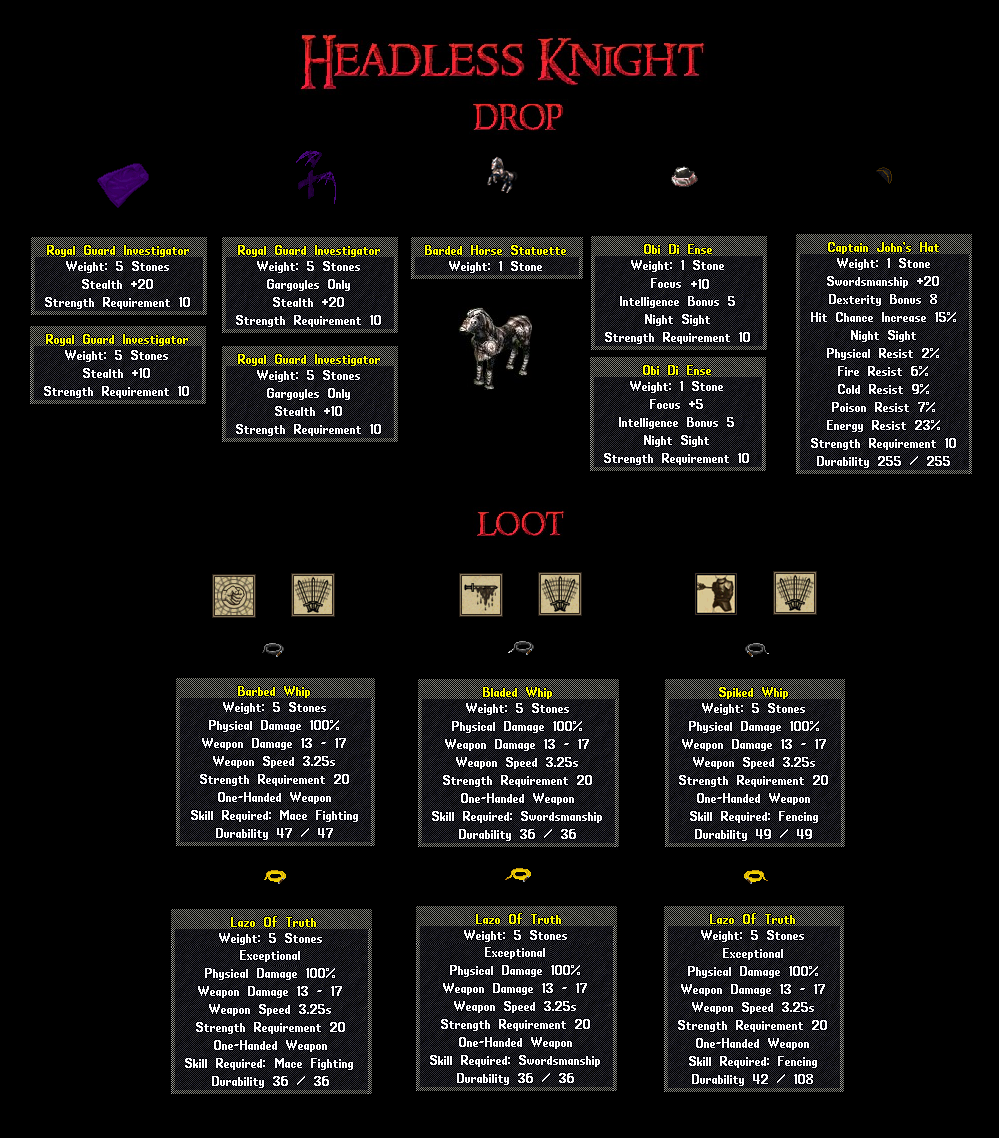 By defeating the Headless Knight in the area where he was locked up by the summoner you will have a great chance of finding a "Whip" in his loot, a new type of weapon that you will find without properties that can be both cast and reforged. Very rarely in the loot it will be possible to find a special version of these whips called "Lazo Of Truth" which have the Exceptional property, are liquid gold in color and like the basic item it is possible to modify them through Imbuing and Reforging.
In the boss drop it will instead be possible to find one of the three Artifacts present in the image, corresponding to the non-[Replica] version already previously droppable in the Champion Spawn.
The Barded Horse Statuette, on the other hand, is a figurine mount that has the same functionality as the "Chief Paroxysmus Swamp Dragon", in fact like the latter it will allow those who ride it to receive reduced damage!
Headless Knight Champion Spawn - Lost Land Felucca
In the Lost on Felucca it will be possible to face the Champion Spawn of the Headless Knight once every 10 minutes, this boss will drop the following artifacts which can also be obtained in the Daily Quest on Trammel: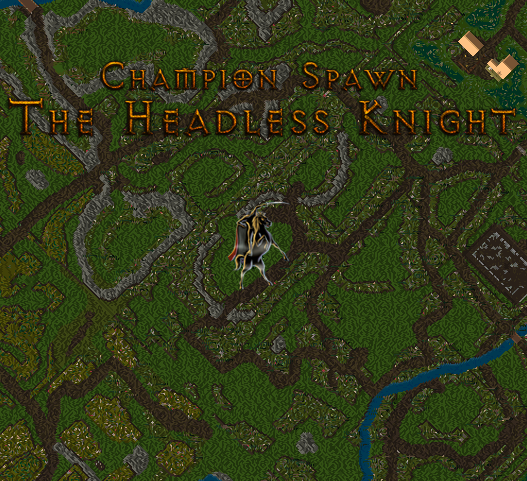 Royal Guard Investigator
Royal Guard Investigator (Gargoyle Only)
Obi Of Ense
Captain John Hat
Barded Horse Statuettes
\
Online Now
58 anonymous
Visits:
65935658