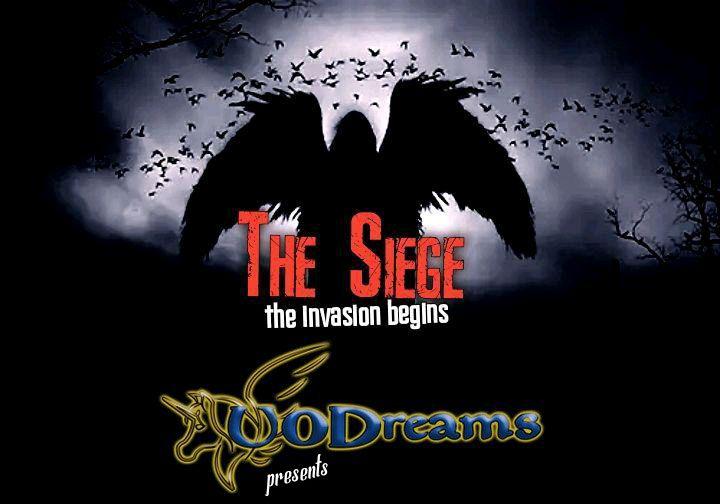 The Siege
The world of Sosaria, which has always threatened to continue the attacks of powerful creatures, has never fought such a great danger!
Minax's attacks and the appearance of Exodus have degenerated the magical barriers that protect our world from repeated attacks. Moreover very powerful energy storms are continuing to degenerate the aforementioned magical barrier weakening it, thanks to this on our world powerful creatures from other worlds made their appearance, enhanced by some Artifacts they possess, objects never seen before that possess a infinite power.
Thanks to Professor Herbert's studies, we were able to predict the dates and places these creatures will appear, and we know with absolute certainty that to recharge their power these creatures will need about 30 days.
All six worlds of Sosaria will be under attack but the most powerful of the creatures will always attack the world of Felucca:
The worlds of Trammel, Malas, Ilshenar, Tokuno and Ter-Mur will be invaded by creatures called "Abominium", there will be five in total, one for each world.
The world of Felucca will be targeted by the most powerful of these, "Harbinger".
To make the Harbinger come out in the open, we will first need to eliminate the creatures that invade the five worlds, once we have eliminated all five Abominiums we will know the position of the Harbinger on Felucca.
Rewards
By counteracting these invasions, you will have the chance to drop some of the following Artifacts if fighting these creatures you will be entitled to the loot.
Both the Abominiums and the Harbingers will drop the "Conjurer's Scissors" as special items, which are used to modify the Conjurer's Garb in the form of Hooded keeping the original color of the artifact.
In addition, the Abominium can drop randomly shaped shields (Heater, Buckler or Metal) that have a special coloring and with the following random properties:
Hit Chance Increase to 12% a 15%
Faster Casting 1 or Spell Channeling (no malus)
Defense Chance Increase to 12% a 15%
Harbingers
(Felucca) 100% Drop Chance

Conjurer's Garb
Caratteristiche
Mana Regeneration
2
Defense Chance Increase
5%
Strength Requirement
10


Embrace Of The Abyss
Caratteristiche
Faster Casting Recovery
3
Faster Casting
2
Lower Mana Cost
10%
Lower Reagent Cost
20%
Energy Resist
15%


Spellbook
Caratteristiche
Spell Damage Increase
35-50%
Mana Regeneration
2-3
Faster Casting
1
Lower Reagent Cost
8-10%


Spellbook
Caratteristiche
Random Slayer
Demon • Arachnid • Elemental • Fey • Repond • Reptile • Undead • Bat • Bear • Beetle • Bird • Bovine • Flame • Goblin • Ice • Mage • Vermin • Wolf • Air Elemental • Blood Elemental • Dragon • Earth Elemental • Fire Elemental • Gargoyle • Lizardman • Ophidian • Orc • Ogre • Poison Elemental • Scorpion • Snake • Snow Elemental • Spider • Terathan • Troll • Water Elemental
Defense Chance Increase
5-10
Spell Damage Increase
18-30%
Faster Cast Recovery
2
Lower Mana Cost
3-5%


Melissa's Cloak
Caratteristiche
Fire Resist
5%
Strength Requirement
10
Durability
255/255


Warded Demonbone Bracers
Caratteristiche
Mage Armor
Casting Focus
2%
Lower Mana Cost
6%
Lower Reagent Cost
12%
Mana Regeneration
1
Physical Resist
9
Fire Resist
11
Cold Resist
8
Poison Resist
7
Energy Resist
9
Strength Requirement
55
Durability
255/255


The Redeemer
Caratteristiche
Blessed
Undead Slayer
Demon Slayer
Swing Speed Increase
55%
Physical Damage
100%
Weapon Damage
20-24
Weapon Speed
5s
Strength Requirement
40
Durability
100/100


Bog Creature's Skin
Caratteristiche
Poison Resist
6%
Strength Requirement
10


Scepter Of The Pride
Caratteristiche
Undead Slayer
Demon Slayer
Hit Mana Leech
70%
Hit Stamina Leech
70%
Hit Life Leech
70%
Swing Speed Increase
30%
Physical Damage
100%
Weapon Damage
14-18
Weapon Speed
3.5s
Strength Requirement
40
Durability
255/255


Staff Of Pyros
Caratteristiche
Undead Slayer
Damage Increase
30%
Faster Casting
1
Mage Weapon
-0
Fire Damage
100%
Weapon Damage
13-16
Weapon Speed
2.75s
Strength Requirement
35
Durability
255/255


Talons Of Escaping (Gargish)
Caratteristiche
Gargoyles Only
Dexterity Bonus
4
Stamina Regeneration
1
Strength Requirement
10
Durability
255/255
Abominium
(Trammel-Malas-Ilshenar-Tokuno-Ter-Mur) Drop Chance 50%

Ithilsis' Breast Plate
Caratteristiche
Blessed
Mage Armor
Necromancy
+15
Mana Regeneration
3
Night Sight
Luck
150
Physical Resist
13
Fire Resist
13
Cold Resist
23
Poison Resist
33
Durability
255/255


Cebo - Great Lakes Stealing Contest Champion
Caratteristiche
Stealing
10
Stealth
10
Strength Requirement
10


Spellbook
Caratteristiche
Spell Damage Increase
35-50%
Mana Regeneration
2-3
Faster Casting
1
Lower Reagent Cost
8-10%


Spellbook
Caratteristiche
Random Slayer
Demon • Arachnid • Elemental • Fey • Repond • Reptile • Undead • Bat • Bear • Beetle • Bird • Bovine • Flame • Goblin • Ice • Mage • Vermin • Wolf • Air Elemental • Blood Elemental • Dragon • Earth Elemental • Fire Elemental • Gargoyle • Lizardman • Ophidian • Orc • Ogre • Poison Elemental • Scorpion • Snake • Snow Elemental • Spider • Terathan • Troll • Water Elemental
Defense Chance Increase
5-10
Spell Damage Increase
18-30%
Faster Cast Recovery
2
Lower Mana Cost
3-5%


Petrified Matriarch's Tongue
Caratteristiche
Mana Regeneration
2
Hit Chance Increase
10%
Faster Casting
1
Faster Cast Recovery
2
Lower Mana Cost
4%
Poison Resist
5%
Durability
255/255


Defiler Of Virtue
Caratteristiche
Fey Slayer
Damage Increase
60%
Faster Casting
1
Hit Lightning
50%
Hit Lower Defense
30%
Stamina Regenaration
2
Swing Speed Increase
25%
Poison Damage
80%
Chaos Damage
20%
Weapon Damage
11-13
Weapon Speed
2.5s
Strength Requirement
25
Durability
255/255


Frostguard
Caratteristiche
Cold Eater
5%
Mana Regeneration
1
Lower Mana Cost
5
Cold Resist
3%


Jade Snake Head
Caratteristiche
Poison Eater
5%
Stamina Regeneration
1
Lower Mana Cost
5
Poison Resist
3%


Boots Of Escaping
Caratteristiche
Dexterity Bonus
4
Stamina Regeneration
1
Strength Requirement
10
Durability
255/255


Crook Of Humility
Caratteristiche
Wolf Slayer
Veterinary
+10
Spell Channeling
Intelligence Bonus
10
Damage Increase
-20
Physical Damage
100%
Weapon Damage
13-16
Weapon Speed
2.75s
Strength Requirement
20
Durability
255/255
Online Now
29 anonymous
Visits:
51468511